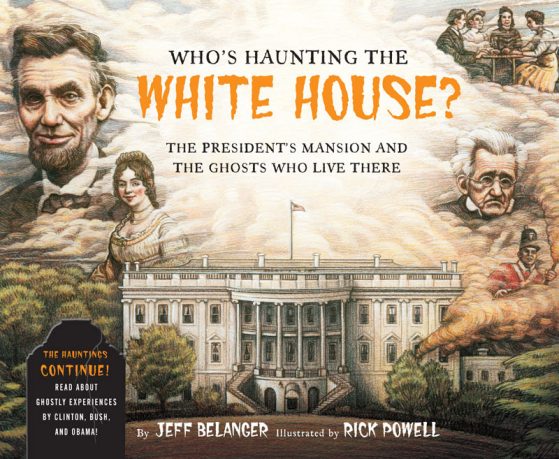 Jeff's first book for children (ages 10 and up) is back, revised, and in paperback! The book now includes ghostly experiences from the Clinton, Bush, and Obama presidencies!
Come explore the spooky world inside the White House! It's one of America's most famous and haunted homes, so keep your eyes wide open for darting shadows, ghostly apparitions, and lurking creepy creatures. We'll hear true, scary stories from past Presidents and First Ladies, as well as from staff who work there every day and have had the chance to see it all. It's the perfect election year book; as adults decide who will move in, kids can enjoy thinking of what the new inhabitant might encounter in the building's many rooms and hallways.
Has the original landowner decided to stick around? Is Abigail Adams still hanging laundry on the premises? Does President Andrew Jackson still make a ruckus up in the Rose Guest Room? Is Abraham Lincoln a permanent fixture in the bedroom that bears his name? Every one of these figures, and others, has been spotted or heard from. To increase the chills, a variety of archival images and original illustrations capture the hauntings.
In addition to ghost-hunting, kids will learn about the real history inside the White House.
Published:
August 2012
ISBN 1-4549-0026-1
Sterling
U.S. $9.95
64 full-color pages
About the Illustrator
Who's Haunting the White House? was masterfully illustrated by Rick Powell. You can visit his Web site at: www.studiopowell.com.
Who's Haunting the White House? Interviews/Articles with Jeff Available Online:
October 27, 2008 – "Who's Haunting the White House?" interview on NECN
October 24, 2008 – Ghost Chronicles Episode 75: Jeff Belanger and Who's Haunting the White House?
October 23, 2008 – Jeff Belanger's Latest Release Stays On A Familiar Track by Shannon Hicks, The Newtown Bee
October 23, 2008 – Paranormal Podcast #50 – Interview with Jeff Belanger
October 17, 2008 – Kids.Ghostvillage.com interview with Jeff Belanger
Read reviews of Who's Haunting the White House?
January 7, 2009 – School Library Journal – "The Road to the White House"
October 13, 2008 – Click here to read the Helium review by Kacey Stapleton
Who's Haunting the White House? Press Release: