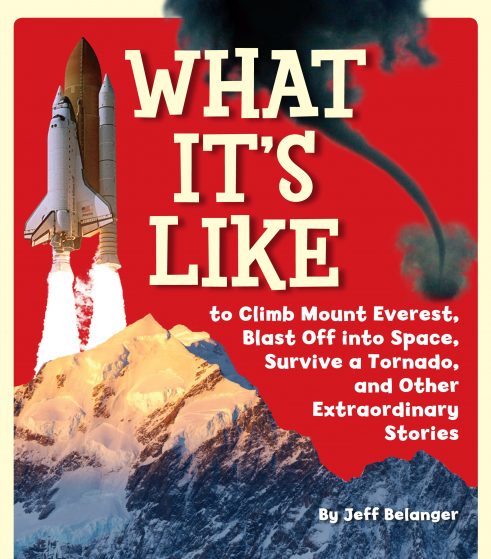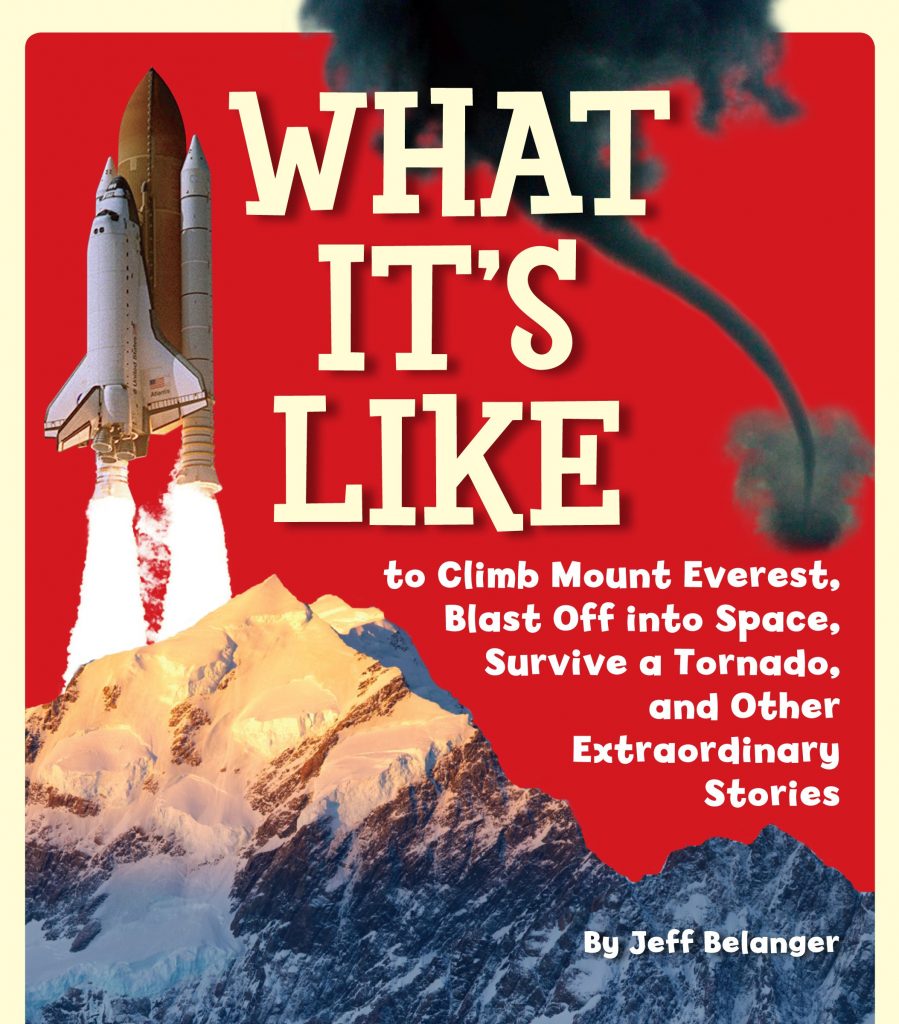 "[What It's Like…] presents short, exciting first-person accounts of high-octane adventures—and, in some cases, personal disasters—by the people who actually experienced them… The exciting action and the entries' short length will draw reluctant readers, as will the many color photographs… This attractive package will be an easy sell."
-Booklist, April 15, 2011
From the Publisher:
What is it like to reach the top of the world's tallest mountain? To survive a shark attack? To fly with the US Air Force Thunderbirds? To find out, Jeff Belanger conducted interviews with twelve ordinary people who just happened to do extraordinary things-and then turned the interviews into adrenaline-packed, thrilling stories told in the first-person voices of the interviewees.
Includes WHAT IT'S LIKE…
To Be Attacked by a Shark
To Save People from a Burning Building
To Walk Across America
To Experience Combat
To Fly with the U.S. Air Force Thunderbirds
To Survive a Tornado
To Be Struck by Lightning
To Sail Through a Hurricane at Sea
To Blast Off into Space
To Walk to the North Pole
To Run Your First Marathon… and Run Fifty Marathons in Fifty States in Fifty Consecutive Days
To Lose Both of Your Legs to Frostbite… and Climb Mount Everest
Published:
March 2011
ISBN 1-4027-6711-0
Sterling
U.S. $9.95
144 pages
Errata:
The photo on page 23 was improperly credited in the book. Credit should read: Photo by Scott Stewart. The publisher will correct this in future printings.
More About Some of the People Featured in the Book:
Bethany Hamilton: Official Web site | Twitter: @surfer_bethany
Michael Anthony: Official Web site | Twitter: @WarVetAuthor
Lt. Jeff Kraft: Calumet Park Fire Dept.
Joe Hurley: Official Web site
Major Tyrone Douglas: Air Force Thunderbirds Web site
Dr. Sandy Magnus: NASA Web site | Twitter: @Astro_Sandy
Angus Cockney: Official Web site
Dean Karnazes: Official Web site | Facebook: DeanKarnazes
Tami Oldham Ashcraft: Official Web site
Mark Inglis: Official Web site
What It's Like… in the News:
True stories to scare the pants off you – Centre Daily – October 30 2011
CLEAR Review – What It's Like – Southwest Ohio and Neighboring (SWON) Libraries – June 2011
New Book From A Newtown Native Reveals The Extraordinary Human Spirit – The Newtown Bee – April 7, 2011
What It's Like with Jeff Belanger – Campfire 60 Podcast with Jim Harold – March 27, 2011
Milford Daily News Q&A – March 5, 2011
Press Release:
New Children's Book Explores What It's Like to Fly to Space, Be Struck by Lightning, Walk Across America, and Experience Other Extraordinary Events
Jeff Belanger's new book celebrates the human spirit, our ability to survive harrowing ordeals, and our drive to accomplish seemingly impossible goals.
What It's Like… features as-told-to interviews with an astronaut, top athletes, a war veteran, firefighter, and other incredible people.
BOSTON, MASS – February 28, 2011 – What's it like to be struck by lightning, to survive a shark attack, to fly with the Air Force Thunderbirds, and to experience other incredible events? Jeff Belanger's new children's book explores those topics and more.
What It's Like to Climb Mount Everest, Blast Off into Space, Survive a Tornado, and Other Extraordinary Stories (Sterling Publishing, February 2011; $9.95, Ages 9 and up) is a collection of thrilling, as-told-to interviews with the people whose experiences often made front-page news, changed their lives, and inspired the rest of us ever since.
"I wanted to share what it feels, looks, smells, and sounds like to do the kinds of things most of us will never experience for ourselves," Jeff Belanger said. "I had the chance to get to know twelve ordinary people who either made the choice to survive against all odds, or who set their focus on a goal so lofty that many of us assume it would be impossible."
What It's Like… features the stories of people like: Bethany Hamilton—the pro surfer whose arm was ripped off by a shark; Mark Inglis—the first and only man (so far) to climb Mount Everest with artificial legs; Dean Karnazes—who ran 50 marathons in 50 states in 50 consecutive days; Tami Oldham Ashcraft—who sailed a boat through a hurricane and survived two months at sea alone; Angus Cockney—who walked 600 miles from Canada to the North Pole; Joe Hurley—who walked from Provincetown, Massachusetts to Long Beach, California; and several other no-less-extraordinary people.
"My life was changed just talking to these folks," Belanger said. "I don't think any of them set out to inspire us when they survived or accomplished their feats; but they did so nonetheless. People can do anything. I'm convinced."
About the Author Jeff Belanger (www.jeffbelanger.com) is an author, a lecturer, and a collector of quirky tales from around the world. He's worked as a journalist, and a television host, and has written over a dozen books, including Weird Massachusetts and The World's Most Haunted Places, that feature interviews with people on a wide range of topics. His other books for children include Who's Haunting the White House? and The Mysteries of the Bermuda Triangle. He has been a guest on over 200 radio and television programs including The Early Show on CBS, The History Channel, The Maury Show, The Travel Channel, National Public Radio, The BBC, and Coast to Coast AM. He lives in Massachusetts with his wife and daughter.