Paranormal Public House with Dustin Pari and Jeff Belanger

| | |
| --- | --- |
| | Jeff Belanger |
| | August 13, 2022 |
| | 6:00 pm |
| | Norwich, Connecticut |
| | Leffingwell House Museum |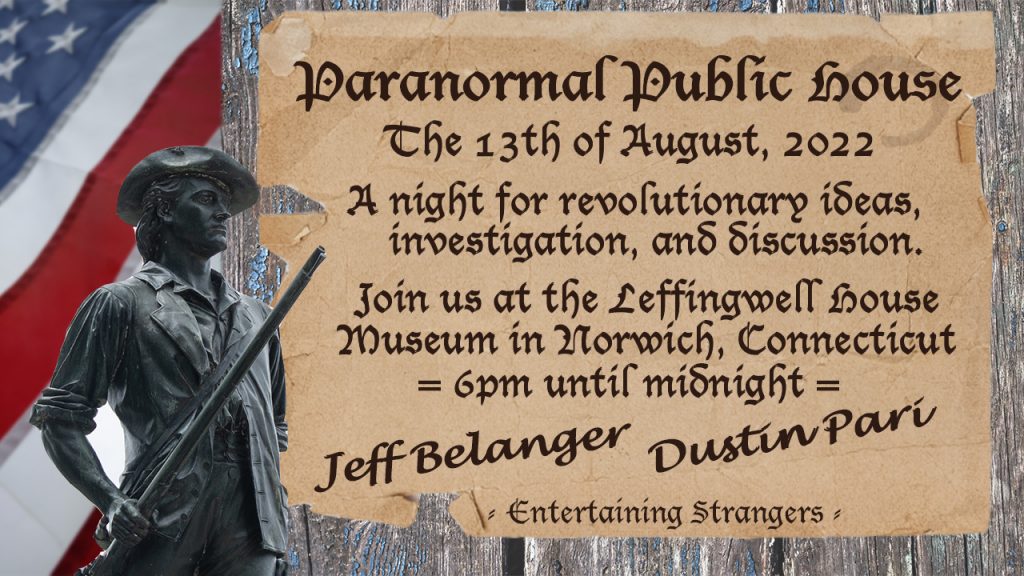 Paranormal Public House with Dustin Pari and Jeff Belanger
Single ticket option includes everything! Meet & Greet, Photo Ops, Spirited Discussion AND Investigation at the Historic Leffingwell House Museum, 348 Washington Street, Norwich, CT 06360.
TICKETS ARE LIMITED TO 30 PEOPLE!
Dustin Pari is a TV personality, paranormal researcher, seasoned author, motivational lecturer. He is best known for his prior appearances on SyFy's Ghost Hunters and Ghost Hunters International and has most recently rejoined the Ghost Hunters team now streaming on Discovery +. His industrious spirit along with his dedication to entertain, educate and inspire has solidified him as a well-respected resource in the paranormal field.
Determined to leave a legacy of kindness, Dustin goes forth with a helpful heart to change the world.
Jeff Belanger is an author, podcaster, storyteller, adventurer, and explorer of the unexplained. He's written more than a dozen books that have been published in six languages, he's the Emmy-nominated host, writer, and producer of the New England Legends series on PBS and Amazon Prime, he provides programs and lectures to audiences all over the world, and he's been the writer and researcher for every episode of Ghost Adventures on the Travel Channel. Jeff has made media appearances on hundreds of radio and television programs over his 25-year career, and he has a passion for mysteries and legends.
For tickets: https://www.eventbrite.com/e/paranormal-public-house-w-dustin-pari-and-jeff-belanger-tickets-349811093397?aff=efbneb